SIGMA

8mm

F3.5

EX

DG

Circular Fisheye

REVIEW

(with sample images) July 7, 2015
Over the years I've had the joy of using various lenses, but never a fisheye lens. I'm a sucker for the wide angles and short telephoto primes (aside from the gorgeous 400 2.8L… if only!)

Circular fish eye lenses are great fun but a VERY specialised type of lens, which does have a learning curve. For that reason, not many people will own one and they come in at a fairly chunky price tag for the average shooter.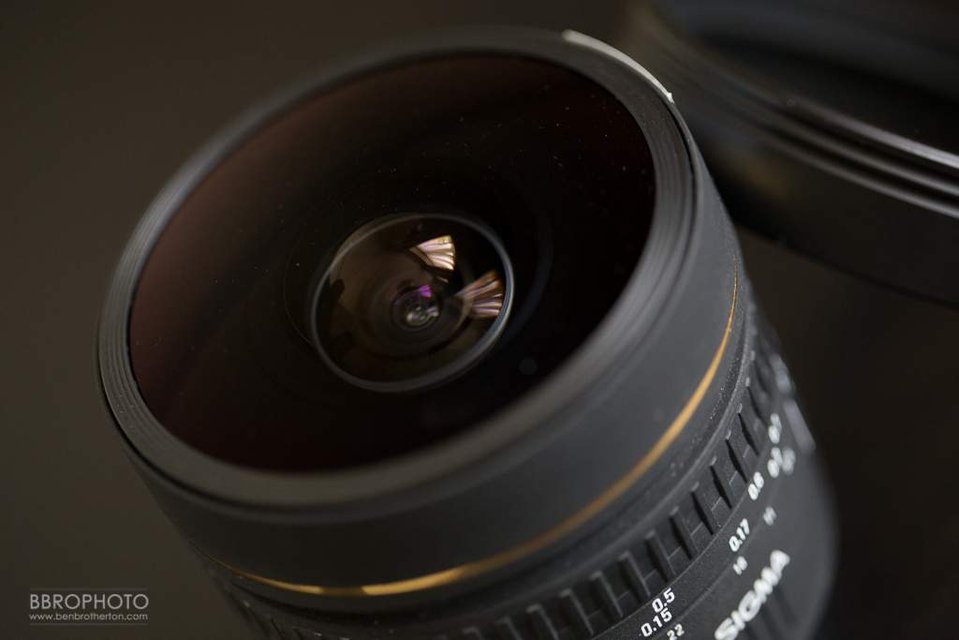 The folks over at LensesForHire offer a fantastic service to try out a lens before buying or just as a one off! Go check them out. I've been using them for years now and their service is top notch. I rented the Sigma 8mm from them after umming and ahhing whether to try out the ridiculous 4.5mm, but then decided against it as I shoot full frame and APS-C, so I could get the circular effect aswell as a less circular fisheye effect with the cropped sensor.


This lens is available with a Canon, Nikon & Sigma mount.
Features 11 elements in 6 groups
180 degree

FOV

Rear drop-in gelatin filter

Weighs a chunky 400g
Focuses all the way down to 13.5cm (which is from the sensor not the front element)
Includes a protective padded bag (unlike Canon unless you buy their L series lenses!!)
Currently £615 (July 2015)


Straight away first thing to note is to get the full 180 degrees FOV you MUST take off the small surrounding /hood otherwise you'll get a surprising decrease in FOV as illustrated below!

Although taking off the adaptor ring does expose the rather large front element, which like most fisheye lenses, has a bulbous front - but not too extreme that you'll panic about using it!


The build quality also surprised me, being metal and good quality plastics. The area between the front element and gold ring is made of metal, (and so is the adaptor ring the lens hood sits on) which gives it a reassuringly sturdy feel for such a small package.


The image quality coming out of this lens is quite good. The obvious problem of flare is pretty well controlled, although sometimes takes sharpness and contrast from the image. Flare will always be a problem with fish eye lenses, but this really is well controlled. The image does get a bit soft in some instances, but I have yet to experience a real sun flare across the image.

Contrast is okay albeit a bit flat, but I bump it up in post to get punchy colours. When using this lens, it seems to give a subtle unique colour when I edit - nothing that my Canon lenses have put out before. I'm not sure if it's the lack of natural contrast, but for me it works.

I also tested this lens at f/3.5 - f22 to see how sharpness, contrast and vignetting improved across the frame as I stopped down the lens. Wide open at 3.5, this lens does vignette quite a bit but it honestly isn't a problem (and actually helps to exposure bright skies) I was usually shooting at f/7.1 - f/11 outside which was about the sweet spot.

f6.3 - f11 is as sharp as it gets. Anything beyond that starts to get a bit soft, although you only really notice this at 1:1 and it varies with positioning of the light source. Centre of the frame remains decently sharp even wide open.

There's quite a lot of colour fringing and chromatic aberration, Lightroom can fix this very well, but you'll find a blue ring round the outside of the image quite a lot of times, especially in high contrast environments. Also fairly often I experienced a golden halo around the image from light within the barrel of the lens. This was only really apparent when shooting on full frame due to a cropped sensor image not showing the full circle and having a light source directly in the shot.


The focus speed on this is fairly slow, but accurate. It sounds like the old Canon 50mm 1.8, but because of the nature of the lens with it's HUGE depth of field, it doesn't have to move very far to lock focus - although it does have quite a large focus throw for manual focusing. When you flick it to manual focus mode (which you MUST do before manual focusing), it has a very loose feel. It feels just like the focus by wire on the Canon 85mm 1.2L. It's very different to a normal ring and feels like it isn't actually attached to the lens. I'm personally not a fan of it, but it was good fun to play around with.

Something to note as you'll see in the video is that the focus rings moves - so make sure your hand is resting on it when you focus!

It's not all about the curves…

Carefully placed lines and horizons can give you pretty straight horizontal lines, then when it comes to corrections in Lightroom, the auto presets work a charm to bring a VERY wide shot without the fish eye distortion. This opens up a whole heap of opportunities and range of styles which is very rare for a prime lens!! The trade off, you do get a lack of sharpness at the edges.

A close focusing distance is expected with wide angle lenses, but this has an eye watering closest focusing distance of 13.5cm which is so close that you have to be very careful not to touch the subject with the lens, which did almost occur on my first day of testing with a very friendly dog.
Objects are a LOT closer than they appear through the lens. Which is an obvious statement, but this takes it to the extreme. So you have to take extra care not to smash your lens!

Using this lens for video is pretty trippy to say the least. When you pan, instead of things moving across the frame, it's almost as if everything is just warping and not going out of the frame. Saying that, this fisheye can produce some stunning footage to get everything in the frame in busy settings and gives a real POV feel like GoPros do - which I'm a huge fan of. Sometimes even the widest of lenses just isn't wide enough, so having 180 degrees of FOV is perfect!

Ironically, using this lens means you can point it roughly in the right direction and you're almost guaranteed to get what you want in the image. Although, if you don't want to get your own feet and elbows in the shot, you'll need to frame your shots very carefully! I found while shooting with this lens critical framing was needed to get shots looking just right. A very slight move to the right, or a tilt, will warp the subject off centre and the lines will no longer be symmetrical and the framing will be off. This isn't always a problem, but I found myself shuffling slightly the the sides to get the framing *just* right.

APS-C vs Full Frame is always going to be an ever going battle on the internet, but a circular fish eye lens renders different images with them both. On a full frame camera, it gives you a complete circle which takes up a small portion of the whole image - which actually means you're using a heap less pixels. On an APS-C camera, because of the crop factor, you get an almost diagonal like fish eye effect, therefore making use of more of the frame and more pixels on the sensor. I found myself swapping to my 7D to eliminate this, although minutes later would miss the fun circular effect.

This lens is so much fun to use. I almost guarantee you'll also find yourself taking a strange amount of selfies with it or any fisheye lens! The fact you can get a large group shot selfie easily at arms length never gets old and is a great crowd pleaser.
Aside from that, this lens opened up a whole world of new opportunities of seeing the world in a completely different way. I was finding myself going to places I would never normally visit, just to find an awesomely large ceiling to photograph and see the walls warp round and the lens engulf the huge surface.

I highly recommend any photographer to give a fish eye lens a go and this Sigma 8mm is a pretty good one at that. An all round good performer, solid build quality, unique perspective, compact and will guarantee to bring a smile to your face! It was a shame to have to hand it back and I haven't experienced that much fun with a lens for a while. Even though it's hugely fun, it's hard to justify the cost for such a specialised lens that would maybe used occasionally.

It's also worth have a look at the Samyang / Rokinon 8mm offering if you're eager for a fisheye lens. At a slice of the cost, with no auto focus as the tradeoff, it's pretty good value. If you're looking for something more versatile and you're a Canon shooter - give the 8-15mm a good hard look.


All images shot on a Canon 6D & Canon 7D. Some have been adjusted, others are SOOC.
This review and images featured are the sole ownership of www.benbrotherton.com and is not to replicated, downloaded or modified. If you wish to use any images found in this article or website, seek permission before hand.